Are you a technical Master/PhD student or young professional (within 10 years after graduation), with a special interest in Maintenance Management & Engineering, then apply to the fifth edition (before the 1st of June) of our WCM Summer School 2016 (August 1-5 2016) and challenge yourself in our exciting program.
Schiphol Group will be providing a real business case regarding Asset Management at a large airport. Schiphol Group has a significant project portfolio, containing expansion projects as well as large scale renovation projects. The main question and challenge for you during the Summer School is to think about how Schiphol Group can optimize the asset life cycle, starting in the design phase of a project. This will be projected on the real project of restoring and modernizing Pier C at Schiphol airport while keeping the building operational. The results of your work will help Schiphol Group to create maximum value for their stakeholders.
"Challenge yourself in our multi-disciplinary Summer School on Maintenance Management & Engineering. Satisfy intellectual curiosity, gain new professional skills in the area of Maintenance and extend your professional network by joining the WCM Summer School″ (prof. dr. H. Akkermans, and director World Class Maintenance)
You will learn about the exciting world of maintenance with all its aspects through our workshops on state of the art maintenance tools and approaches. Knowledge gained will be applied immediately as your analytical skills and creativity will be tested to its limits when you are solving the problems presented in our real life case study.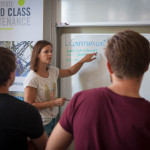 You will cooperate with other participants and you will be guided by our team of top professors in maintenance. On the last day your group will present will present solutions to the problems posed in the case study and a winner will be selected by a jury of representatives from industry and academia.
Besides lectures and work, we have also planned a company visit, a leadership training and a couple of social events; you are guaranteed to meet interesting people and have a lot of fun as well!
Please click here for the application form and more information about the application procedure.